Guest lecture by Commerz Business Consulting (CBC): Guiding principles of leadership
2023/02/13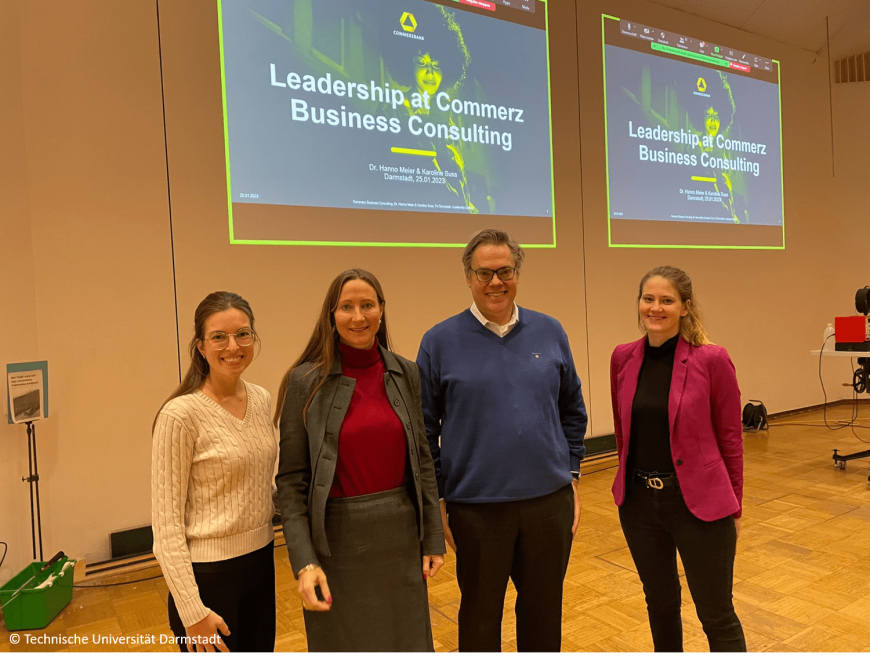 Dr. Hanno Meier, Principal and Member of the Management Board of CBC, and Karoline Suss, Senior Manager of CBC, were invited to TU Darmstadt to share guiding principles of leadership within the context of the Leadership lecture. They start by presenting their working area. CBC's 110 employees are responsible for the in-house consulting activities of Commerzbank while working together with external consulting agencies in joint teams on a variety of projects. Their project portfolio contains everything from the development of innovative digital services in their DLT Lab to sustainability issues working towards establishing their position as a climate neutral Net Zero Bank.
They continue by showcasing CBC's eight-step guiding principles of leadership starting with hiring the right talents fitting the CBC culture. Great talent is the first step, but without the right team environment the greatest talent is in vain, leading to the second substantial principle: cultivating corporate culture. One of the ways the CBC consultants accomplish this is with their Office Day where everyone comes together enjoying a joint breakfast, presenting on various topics and listening to external guest speakers. Following the third principle leaders have to be flexible and adept to the different personalities present within the team led, in line with the fourth step of winning the heart of the team by choosing the right way of motivation. Then according to the fifth principle the leaders' responsibility is to enable through training, motivate by appreciation, encouragement and celebrating success and finally empower via assigning new tasks and giving employees more responsibility and freedom. The next principle pursued in CBC suggests that feedback is essential for the development of individual employees, which is all too important in the CBC career model. The seventh principle says that Inspirational Leadership is predominantly value driven, implying that as a leader one must be aware of one's own values and act accordingly, as well as creating a safe environment for the employees which encourages. At the end, the guest lecture is rounded off with an excursus into remote leadership followed by a Q&A session.
A big thank you to Dr. Hanno Meier and Karoline Suss for their step-by-step explanation of the guiding principles of leadership.
This article has been written with the help of Fabian Meldt, Student Assistant at the Chair of Marketing and Human Resource Management