Guest lecture by HKP Group: Designing compensation successfully
2023/02/15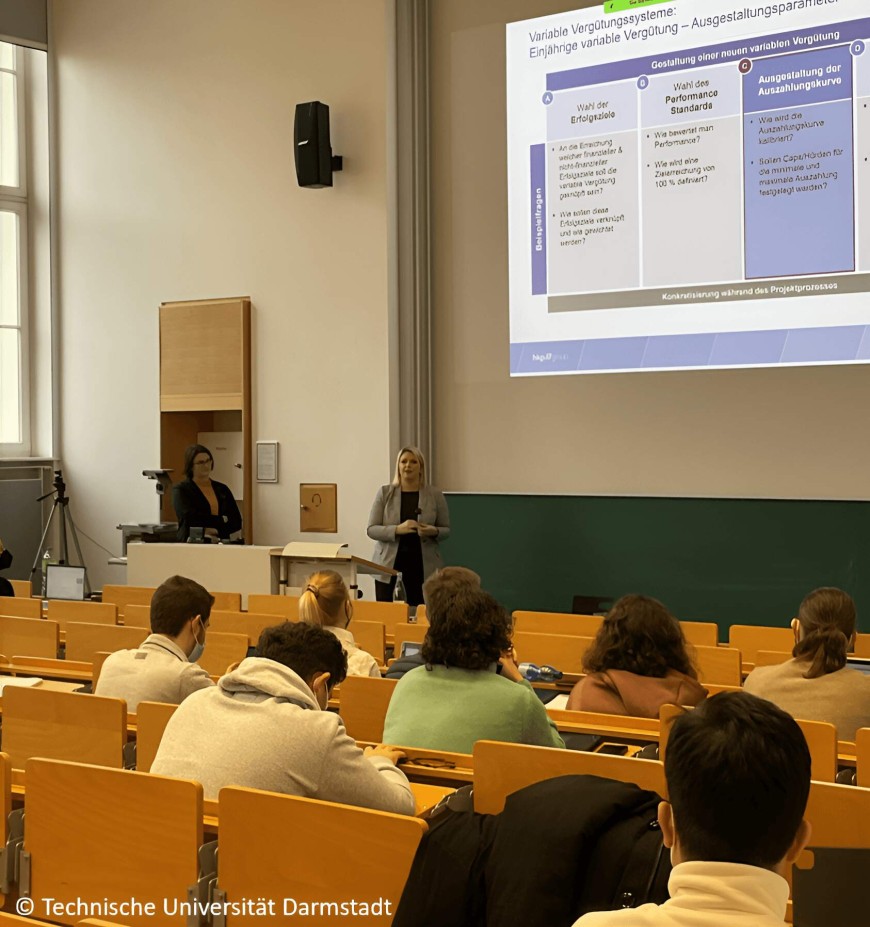 As part of the Human Resources Management lecture, Dr. Pia Lünstrot and Nina Grochowitzki, both partners of HKP group, were invited to TU Darmstadt to speak about the topic of compensation. After briefly introducing themselves, they continue by presenting HKP's working areas. HKP group is both a Corporate Governance Advisor as well as a Strategic HR Advisor. As a strategic corporate governance advisor, they provide support to supervisory boards in the area of sustainable corporate governance, focusing on topics such as board organization, competencies and composition, governance, and compensation. As a strategic advisor to CHROs and the HR-function HKP helps set and implement the People Agenda, with a focus on transformation and ensuring sustainable business performance through employees.
They continue to showcase how compensation operationalizes corporate control and which kind of compensations are commonly utilized. When designing the compensation model different perspectives have to considered, such as regulatory aspects, the investors' interests, the current state of the market (e.g., competitors and general prospects), and internal aspects. Regulatory impact on the compensation of board members has changed and become increasingly restrictive over the last two decades, in many cases connected to certain incidents.
Continuing with the methodology of the compensation system they start with revealing the variable compensation model implemented by Meta and go on with showcasing some of the variable compensation systems and how they are developed considering Performance targets, Performance standards, the pay-out curve, and individual performance. At the end, the guest lecture is rounded off with a Q&A session.
We thank Dr. Pia Lünstrot and Nina Grochowitzki very much for this profound insight into compensation.
This article has been written with the help of Fabian Meldt, Student Assistant at the Chair of Marketing and Human Resource Management